Create an account
Everybody who wants to edit any content in the CSDMS Wiki needs to "log in" to the website. Logging in for the first time? If not, follow this link "Log in", to refresh your memory on how to log in. If this is the first time you're logging in, you will need to create an account (don't worry, it takes less than a minute and its for free).
To create an account:
Go to the upper right corner of the website and follow the yellow link to "log in / create account".


In the Log in screen, press once more "Create an account".

Do the math (this is to assure that log in's are only created manually), fill out all the required fields (Username, password, retype password and real name) and press the "Create account" button.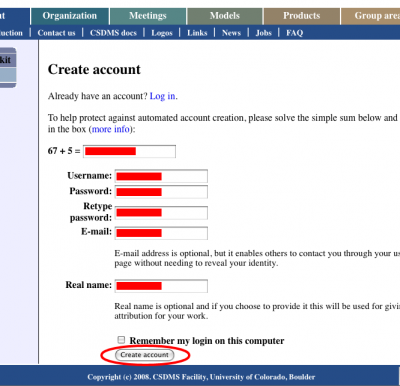 And that's it! You're all set up to directly participate in web discussions, upload files, share information and contribute any of your thoughts with the rest of the CSDMS community.