Joint workshop Hydrology EKT and Cyberinformatics Nov2009
From CSDMS
Joint Workshop for CSDMS Education & Knowledge Transfer Working Group, Cyberinformatics Working Group, and Hydrology Focus Research Group, Boulder, CO, Nov 16-17, 2009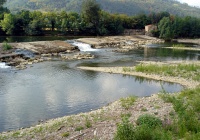 Date: November 16-17, 2009
Location: Millennium Hotel at Boulder (CO), USA
Host: CSDMS
Participants
Meeting registration is now closed.
Circulars and Program
The Workshop for CSDMS Education & Knowledge Transfer Working Group, Cyberinformatics Working Group, and Hydrology Focus Research Group will be for 2 days.
Agenda
Format: The format will consist of a mix of presentations, demonstrations and hands-on exercises, breakout discussion groups, and writing sessions. Most time will be devoted to breakout-group and whole-group discussions.
Agenda: Please follow this link to view the agenda dated November 4, 2009.
Talks
| Presenter | Title |
| --- | --- |
| Constantinescu, George | Gravity Currents |
| Famiglietti, Jay | Overview Hydrology Focus Research Group |
| Kettner, Albert | Contributing source code to the CSDMS repository |
| Maxwell, Reed | Water and Climate Modeling |
| Meiburg, Eckart | High Resolution Simulations of Turbidity Currents and River Outflows |
| Overeem, Irina | EKT Education and Knowledge Transfer Objectives, Progress & Plans |
| Peckham, Scott | Model coupling demonstration |
| Syvitski, James | Fall 2009 CSDMS WG Update |
| Washburne, Jim | SAHRA Ed-KT Programs: Nov 2009 |