11 2018 TWG newsletter
From CSDMS
Terrestrial Working Group Newsletter – November 2018
Spotlight Winner - Brigid M. Lynch
Spotlight nominations were requested in our last newsletter so that we could learn more about our members, and we received several worthy nominations. Our first TWG Member Spotlight winner is Brigid M. Lynch, graduate student at Indiana University!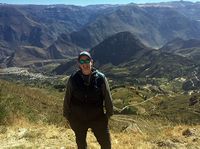 Brigid's nominator writes: Brigid is coupling Landlab with WRF (Weather Research and Forecasting) and WRF-Hydro to explore the co-evolution of climate and landscapes. By using WRF, she is able to explicitly model the spatio-temporal patterns of precipitation during the growth of a mountain range. She is finding that the evolution of discharge distributions is latitude dependent, suggesting the feedbacks between mountain growth and orographic precipitation is spatially variable. Such modeling work will provide insight into data-focused exploration of the interaction of climate, tectonics, and topography.
Congratulations, Brigid!
We will be accepting nominations on a rolling basis for a future spotlight!
AGU Highlights
We know how busy this time of year is, even without the extra pressure of planning your AGU meeting. Here are just a few AGU highlights that we think the TWG CSDMS community may be interested in:
Fall 2018 Webinar Recap
This fall CSDMS presented webinars on the Landlab Toolkit, Using CSDMS in the Classroom, and the CSDMS Basic Model Interface. This website links to the recorded webinars on YouTube (~45 minutes) and the presentations for download.
Mark your calendar for the 2019 Annual Meeting
Woohoo for CSDMS 3.0, or the third round of NSF support for our community advancement and achievement! This milestone is marked in the title of the next annual meeting, "CSDMS 3.0 - Bridging Boundaries", to be held May 21 - 23, 2019, in Boulder, CO, USA. Check here for meeting information.
Reminder to fill out the survey
In our last email we asked for your input so that we can keep TWG relevant to your interests. Here's a sample of what your peers said:
Why did you join the TWG?
Workshops and people in CSDMS and TWG have been helpful in learning a bit more about modeling (and making me learn Python).
To hang out with cool modelers.
Where would you like the TWG to focus in the next year?
Being more pro-active about connecting scientists who are working on the same projects.

If you haven't given us your input yet, please fill out the short form here!