Joint workshop Marine WG Carbonate FRG
From CSDMS
Joint workshop for CSDMS Marine Working Group and Carbonate Focus Research Group, Boulder, CO, Oct 19-20, 2009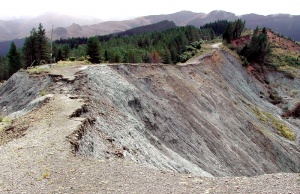 Date: October 19-20, 2009
Location: Millennium Hotel at Boulder (CO), USA
Host: CSDMS
Introduction
The groups are organized to meet together and separately to brainstorm, refine and achieve their goals for the upcoming year(s).
Participants
Registration is now closed.
Circulars and Program
The joint Marine Working Group and Carbonate Focus Research Group will meet for 2 days.
Agenda
Format: The format will consist of a mix of presentations, demonstrations and hands-on exercises, breakout discussion groups, and writing sessions. Most time will be devoted to breakout-group and whole-group discussions.
Agenda: Agenda Marine Carbonate.pdf
Presentations
| Presenter | Title |
| --- | --- |
| Bever, Aaron | Modeling Hydrodynamics and Sediment Transport in Poverty Bay, New Zealand; A Basic ROMS overview |
| Burgess, Peter | Overview Carbonate Focus Research Group |
| Friedrichs, Carl | Modeling of Clinoforms Created By Wave/Current Supported Gravity Flows |
| Hutton, Eric | Linking Models: new componentized versions of CSDMS models |
| Jenkins, Chris | Population Models for Carbonate Workbench |
| Kettner, Albert | Contributing source code to the CSDMS repository |
| Meiburg, Eckart | High Resolution Simulations of Sediment Transport by Turbidity Currents |
| Syvitski, James | Overview meeting |
| Wiberg, Pat | Overview Marine WorkingGroup |
| Presented by | Title | Download |
| --- | --- | --- |
| Peter Burgess | Breakout Session results Carbonate FRG | ppt | pdf |
| Pat Wiberg | Breakout Session results Marine WG | ppt | pdf |
| Summary | Summary of the meeting | ppt | pdf |