Movie:Thermal Mixing at Channel Confluence
From CSDMS
Information Page: Thermal Mixing at Channel Confluence
Play Animation

Thermal Mixing at Channel Confluence
Key Attributes
| | |
| --- | --- |
| Domain: | terrestrial, hydrology |
| Keywords: | Thermal mixing |
| Model name: | 3D Detached Eddy Simulations |
| Name: | George, Constantinescu |
| Where: | small river confluence in Illinois |
| When: | minutes |
Short Description
Grade level: Graduate / Professional
Statement: Thermal Mixing at Channel Confluence
Abstract: A small river confluence in Illinois with an asymmetrical confluence and a concordant bed. The different cross-sections in the example focus on mixing of rivers with different water temperatures (thermal mixing). The large-scale engulfing by the ML eddies promotes mixing. The large-scale oscillations of SOV cells play an important role in the mixing between the two streams.
Theory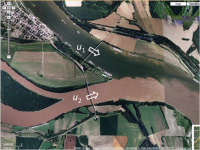 River confluence example
Confluences are a common element of river networks, especially in the lower reaches and the deltaic floodplain. They are characterized by large-scale turbulent motions. Confluences are even more common in braided river networks, and play an important role in reworking and transporting bedload material.
Links
References


The part "]]" of the query was not understood.</br>Results might not be as expected.