The Education and Knowledge Transfer (EKT) Working Group Meeting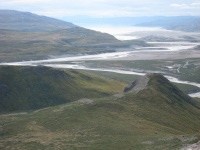 Sponsors:
Community Surface Dynamics Modeling System (CSDMS)
Focus:
Fully integrated EKT components focused on three end-user groups: researchers, planners and educators
Researchers with model and visualization tools for the testing of hypotheses in support of data interpretation, and development of field programs. The archiving of benchmark data sets, documented source code, and the ability to download models with user-friendly graphical interfaces are key objectives.
Planners with decision-making tools to run scenarios, and relate GIS output to environmental factors and land use while quantifying uncertainties.
Educators with pre-packaged models to help illustrate surface processes, teaching tools to build intuition with "what-if"-type model runs, case studies that integrate field data and model simulations, and exploratory exercises for students. Our principal audiences are university students, professionals, teachers at the secondary school and college levels, and the general public.
Agenda:
The Second Circular contains the final agenda as pdf (October 9, 2008)
Meeting Notes:
These are the meeting notes worddoc (October 22, 2008)
Talks:
| Presenter | Title |
| --- | --- |
| Arsenault, Matthew | U.S. Geological Survey Woods Hole Field Center: Background, Data & Visualization |
| Campbell, Karen | EKT at NCED |
| Jenkins, Chris | Meeting community and government agency requirements (dbSEABED experience) |
| Kettner, Albert | EKT and the CSDMS web site |
| Luo, Wei | Web-based Interactive Landform Simulation Model (WILSIM) |
| Overeem, Irina | EKT discussion |
| Peckham, Scott | Technology presentation |
| Reniers, Ad | Modeling hurricane impacts on beaches, dunes and barrier islands |
| Rogers, Kimberly | Transdisciplinary Initiative on Environmental Studies (VU TIES) Program |
| Syvitski, James | CSDMS overview |
| Syvitski, James | CSDMS users |
| Voinov, Alexey | Why Community Modeling? |