Data:World Glacier Inventory
From CSDMS
World Glacier Inventory dataset information page
Short Description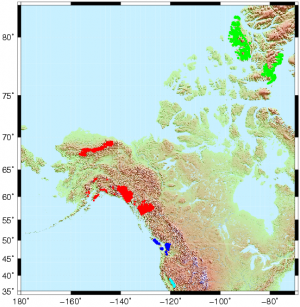 North America example of the
World Glacier Inventory
Statement: Information on glaciers for over 100,000 glaciers through out the world served by the National Snow and Ice Data Center
Abstract: The World Glacier Inventory contains information for over 100,000 glaciers through out the world. Parameters within the inventory include geographic location, area, length, orientation, elevation,and classification of morphological type and moraines. The inventory entries are based upon a single observation in time and can be viewed as a 'snapshot' of the glacier at this time. The core of this collection is data from the World Glacier Monitoring Service, Zurich. The development of the data product was funded through NOAA's Environmental Services Data and Information Management (ESDIM) program.
Data format
| | |
| --- | --- |
| Data type: | Cryosphere |
| Data origin: | Measured |
| Data format: | ASCII |
| Other format: | |
| Data resolution: | Point source data |
| Datum: | |
Data Coverage
Spatial data coverage: Global glaciers
Temporal data coverage: Time snap shot
Time period covered: 1999 but updated over time
Availability
Download data: ftp://sidads.colorado.edu/pub/DATASETS/NOAA/G01130/
Data source: http://nsidc.org/data/g01130.html

References
National Snow and Ice Data Center. 1999, updated 2009. World glacier inventory. World Glacier Monitoring Service and National Snow and Ice Data Center/World Data Center for Glaciology. Boulder, CO. Digital media.