NOSHDB dataset information page
Short Description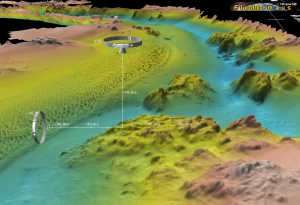 Perspective image of NOS BAG survey bathymetry
Statement: Database of U.S. hydrographic surveys conducted by NOAA's National Ocean Service
Abstract: The National Ocean Service (NOS) Hydrographic Data Base (NOSHDB), maintained by NGDC in conjunction with NOS, provides extensive survey coverage of the coastal waters and Exclusive Economic Zone (EEZ) of the United States and its territories. The NOSHDB contains data digitized from smooth sheets of hydrographic surveys completed between 1851 and 1965, and from survey data acquired digitally on NOS survey vessels since 1965.
Over 76 million soundings from over 6600 surveys are now included in the NOSHDB. These data may be searched and downloaded online using the Hydrographic Survey Data Map Service (an interactive map and data discovery tool at NGDC; http://map.ngdc.noaa.gov/website/mgg/nos_hydro/viewer.htm). The NOSHDB data with search and retrieval software are also available on a DVD-ROM or CD-ROM set.
Data products from NOS surveys, including BAG files, descriptive reports (DRs), smooth sheet images, survey data images, textual gridded data, and sidescan sonar mosaics, are available for download from NGDC using the Hydrographic Survey Data Map Service.
Data format
| | |
| --- | --- |
| Data type: | Topography |
| Data origin: | Measured |
| Data format: | ASCII |
| Other format: | BAG (Bathymetric Attribute Grid) |
| Data resolution: | varies with survey date and water depth |
| Datum: | NAD 83 geographic, NAD 27 geographic, various UTM zones (horizontal); MLW and MLLW (vertical) |
Data Coverage
Spatial data coverage: Conterminous United States, Alaska, Hawaii, Puerto RIco, and island territories.
Temporal data coverage: Time snap shot
Time period covered: By survey date
Availability
Download data: https://www.ngdc.noaa.gov/mgg/bathymetry/hydro.html
Data source: https://www.ngdc.noaa.gov/mgg/bathymetry/hydro.html

References