Data:IEDA data services for observational Geoscience data
From CSDMS
IEDA data services for observational Geoscience data dataset information page
Short Description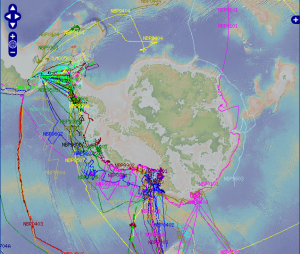 Example of dataset that IEDA is hosting.
Antarctic & Southern Ocean Data Portal
Statement: IEDA or Integrated Earth Data Applications provides data services for observational Geoscience data from the Ocean, Earth, and Polar Sciences
Abstract: [[Extended data description::IEDA is a community-based facility that serves to support, sustain, and advance the geosciences by providing data services for observational Geoscience data from the Ocean, Earth, and Polar Sciences.
IEDA systems serve as primary community data collections for global geochemistry and marine Geoscience research to support the preservation, discovery, retrieval, and analysis of a wide range of observational field and analytical data types, enabling these data to be discovered and reused by a diverse community now and in the future.
IEDA data collections and tools are developed based on an active understanding of the practices, needs, and concerns of their user communities, through an open and responsive dialog, engaging investigators in the design of the systems, seeking their feedback, and educating the community about responsibilities and benefits of scientific data management and sharing.
More...]]
Data format
Data type:
Oceanography
Data origin:
Measured
Data format:
Shapefile, KML, KMZ, ASCII
Other format:
IEDA is a data portal and therefore there are multiple data formats
Data resolution:
Datum:
Data Coverage
Spatial data coverage: World
Temporal data coverage: Time series
Time period covered: --
Availability
Download data: http://www.iedadata.org/
Data source: http://www.iedadata.org/

References