Cyberinformatics Meeting 2009 March
From CSDMS
Cyberinformatics and Numerics Working Group Meeting, March 3, 2009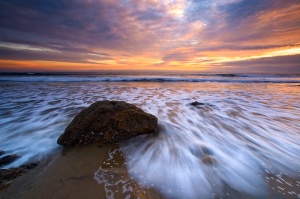 Date: March 3, 2009
Location: University of California, Santa Barbara(CA), USA
Host: CSDMS
Introduction
The next meeting of the CSDMS Cyberinformatics and Numerics Working Group will be held March 3rd at the University of California in Santa Barbara, CA. There will be several presentations by CSDMS staff and HPC experts, and hands-on demonstrations of the CSDMS model-coupling tools, as well as examples of how to use OpenMP and MPI.
The C-N Working Group is tasked with assisting the CSDMS Integration Facility and other working groups with regard to computational approaches, infrastructure and training.
A key goal of the CSDMS project is to provide our modeling community with access to, and a migration pathway toward high-performance computing. We have acquired a 512-core supercomputer from SGI (Intel quad-core 3GHz processors), with 2GB of RAM per core, for a total of 1 TB RAM. This computer will be running Red Hat Linux and will be freely available for use by CSDMS members. In order to make best use of this computer our goal is for CSDMS members who already do HPC modeling to begin using it as soon as possible and to encourage them to share their knowledge with other CSDMS members who want to learn more. We also want to begin to make use of existing toolkits and HPC components such as PETSc. To this end we have invited several people to speak on HPC topics, including Boyana Norris (CCA/HPC/PETSc expert), Eckart Meiburg (CFD modeler and host) and Terry Smith (landscape evolution modeler). In addition to these confirmed speakers we have also invited several other HPC experts (updates to follow).
Key questions to be addressed at this meeting are:
How can we best assist our community with the migration to HPC (e.g. tutorials, workshops, online resources)?
What sorts of solver and mesh libraries are available and what is involved in order to incorporate them into existing models?
Is the OpenMI modeling interface sufficient for HPC applications?
What types of surface dynamics models are most likely to benefit from HPC?
What types of HPC projects should CSDMS prioritize in the next year?
Participants
Registration for this meeting is now closed.
Personal invitations have been sent to specific CSDMS members with expertise in these areas to contribute to the discussion and planning of short- and long-term goals.
Circulars and Program
Please follow this link (pdf) to view the agenda.
Talks