Chesapeake FRG meeting NOV2009
From CSDMS
CSDMS CHESAPEAKE FOCUS RESEARCH GROUP MEETING, November 10, 2009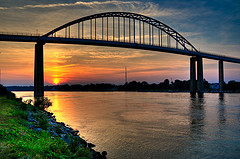 Date: November 10th, 2009
Location:
Director's Conference Room
Watermen's Hall
Virginia Institute of Marine Science

Directions:
http://www.vims.edu/about/visit/directions/index.php
Accommodations:
Duke of York, 508 Water Street
Yorktown, VA
757-898-3232
Notice: ask for VIMS rate of $89/night
Introduction
The Chesapeake FRG is the first Geographically-Focused Research Group associated with CSDMS. The group is a partnership between CSDMS and the Chesapeake Community Modeling Program (CCMP, http://ches.communitymodeling.org/) currently run by the Chesapeake Research Consortium. Follow this link to find out more about the CSDMS Chesapeake FRG.
The purpose of the Chesapeake Focus Research Group is to combine the forces of CSDMS and CCMP to assemble an open source system of watershed and estuary models applied to the Chesapeake Bay region. Ideally, a collection of interchangeable models and model components will be gathered to address hydrology and hydrodynamics, watershed-estuary exchange, sediment transport, water quality, ecosystem dynamics, and trophic exchanges within the Chesapeake Bay and its watershed.
So, in addition to the geographical focus, attendance at the meeting will enable you to stay abreast of cutting-edge research developments applicable to many areas of study. The afternoon discussions (See agenda below) intends to:
Formal role for CSDMS Chesapeake Focus Research Group (ChesFRG) as the academic research arm of CCMP.
Population of the ChesFRG pages at CSDMS with existing (and/or links to) open-source Chesapeake Bay region models.
Population of ChesFRG pages at CSDMS with exisiting (and/or links to) common model forcing data (e.g., rainfall, winds, bathymetry, etc).
Identification of priority models for CSDMS linking in Intialize-Run-Finalize (IRF) format, perhaps EPA/NOAA CBP models + ChesROMS.
Strategies to enable sensitivity testing and model/module exchange among CSDMS IRF formatted models.
Establishing a specific ChesFRG focus on water quality and ecosystem modeling.
Avenues for group proposals including finding support for full-time ChesFRG-oriented personnel such as a dedicated post-doc.
Participants
For those interested in attending the Fall 2009 meeting of the Chesapeake FRG, we are able to offer partial to full reimbursement for travel and lodging, depending on individual travel costs and the total number of attendees. A group lunch and dinner will also be provided. Please let myself (cfried@vims.edu) and Marlene Lofton (marlene.lofton@colorado.edu) know via return email by October 23rd if you plan to attend the meeting. CSDMS travel authorizations, available only to CSDMS members, will need to be approved before the meeting in order to allow reimbursements. Members of the CCMP Steering Committee who would like to attend but who have not yet registered as members of the Chesapeake FRG should do so at: Join Workinggroup.
Circulars and Program
Please follow this link to view the agenda dated October 21, 2009.